Pamphlets From the book
Screen versions are for reading on screens of any size and are optomized for small displays and tablets.

Print versions are black and white, ready for reproduction as half-size pamphlets, imposed on 8.5x11 pages.
Posters From the book
Posters Born From The Book
Book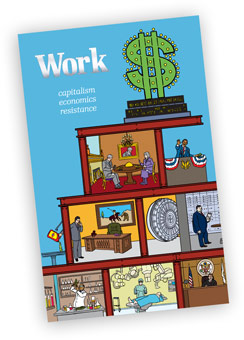 From colonialism to the stock market, from the financial crisis to the upheavals taking place right now, our newest book offers an overview of how capitalism functions in the 21st century and how we can get beyond it. 378 Pages, more info here.
Deluxe Poster
We've created a new version of the classic illustration of the pyramid of the capitalist system published in 1911, more detailed and updated to account for all the transformations of the past one hundred years. Fully 2'x3' in size. More info here.
Bulk Poster
A 22"x14" full-color, stand-alone poster as well as a companion to our Work book, the back contains a concise essay dissecting capitalism as we live it. This bulk version is made for easy distribution and decoratrion of public spaces. More info here.