Whence do Stockholm Syndrome and Broken Window Theory derive their names? What is the common root of aristocracy and democracy? Who gets diagnosed with Anarchia and Drapetomania? How did voting kill Edgar Allen Poe, and why is a crater on the dark side of the moon named for the man who blew up the Tsar? Alternately scathing and sublime, Contradictionary pulls back the curtain from the war within every word, revealing the conflict behind the façade of the commonplace.
In the tradition of The Devil's Dictionary, our Contradictionary assembles a wide range of wit and whimsy. This is no mere miscellany, but a lighthearted work of serious literature, concentrating a wealth of ideas and history into aphorisms and anecdotes.
word of the week
/ December 1st, 2013
‹ Haunt ›
Once upon a time, things were older than us, even synthetic things; they arrived in our lives rich with history, bearing blessings or curses, infused with the spirit of those who came before us and charged with their unsettled accounts. Now, instead of ghosts, our prefabricated houses are haunted by the absence of history, of all meaning whatsoever.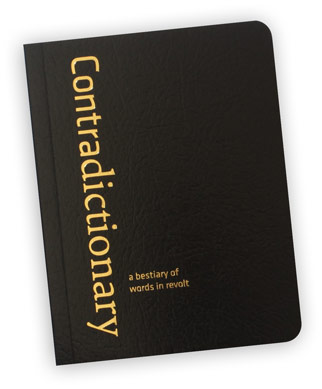 [Wholesale copies are $5 each]
Orders placed right now receive a free bookmark and pencil, limited to 1,000 copies, to celebrate the book's release.
Tech specs
Printing: Faux-black-leather vinyl cover with gold foil stamp, and two colors (black & sepia) with full bleeds throughout.
Binding:
Perfectbound w/ PUR glue
Weight: 7.7 ounces
Size: 4.25" x 5.5" x .735"
Pages: 320 + cover
Definitions: 519
Words: 45,478
Illustrations: 64
Photographs: 20