A 288 page novel-like narrative, Evasion is one person's travelogue of thievery and trespassing across the country, evading not only arrest, but also the 40-hour workweek and hopeless boredom of modern life. The journey documents a literal and metaphorical reclamation of an individual's life and the spaces surrounding them—scamming, squatting, dumpstering, train hopping and shoplifting a life worth living and a world worth the fighting for.
". . . then life began, and since then we remember each dumpster, abandoned house, and foot-chase by retail security. At night, after running around, plotting and scheming, our checklist items all crossed out, we paused to think—'What to do tomorrow?' and the answer was always, 'As we please . . .'"
reviews
"Evasion offers many beautiful stories about surviving in voluntary squalor that are human and touching, yet liberatory and hopeful at the same time."
the insurgent, October 2001
"The nameless author could best be described as the Thoreau of the alley—one who lives/writes deliberately, and without regrets."
Bad subjects , January/February 2001
"One of the most romantic and celebrated cultural icons in America is the train-hopping hobo, who travels around the country as he likes, free to roam, the other side of the country only a train hop away, not knowing when his next meal will be, but not willing to humiliate himself enough to get a shitty job.
"Well, Evasion, the newest publication from everyone's favorite DIY punk anarcho-individualist (add your own misrepresenting label here) publishing house and propaganda machine, CrimethInc., brings back the hobo for the youth of today. Originally published as a 100-page photocopied zine, Evasion made the rounds in the zine world until, as legend goes, it was picked up and passed around through CrimethInc.'s extensive Kinko's connections and distributed.
"And the book is a pleasure to read. This reviewer took Evasion along with him on a cross-country Amtrak trip and it served as a perfect compliment to stopping through no-name Montana towns and endless miles of strip malls. The Evasion narrative weaves in and out of different times and places, not going in chronological order, criss-crossing the country, hopping on trains, hitchhiking, living on top of bagel stores, dumpster diving, shoplifting, squatting, and falling in love. Evasion has it all.
"Evasion offers many beautiful stories about surviving in voluntary squalor that are human and touching, yet liberatory and hopeful at the same time. There's a functional aspect to the book as well, in the form of great tips on train hopping, hitch hiking, shoplifting from specific stores like Barnes and Noble's (to which many pages are devoted), and many other how-to's in the underground world. Part of the beauty of this book is that I could have run into this kid about a thousand times and never known.
"The author of Evasion is a product of his time: an alienated high school dropout that refuses wage-slavery and commodity economic systems in the only way he can—by becoming an outlaw. While clearly not a blueprint for revolutionary action (no one's saying it is) as CrimethInc. writes in a short preface, it is one model of revolutionary activity in which at least one person has found solace and meaning in this absurd country we're living in. It's nice to know there are still people living outside of the radar screen of society, and writing well enough to tell us about it in a way that is enjoyable and offers an insightful and critical account of the United States."
the insurgent, October 2001
"While the book is focused upon the life of the author, it is more acutely focused upon the politics of living and the ability for people anywhere to drastically change the ways in which they live. The book serves as . . . an invitation to those of us trapped within the tumultuous cycles of work and consumption.
"However, the real essence of this book lies within the energetic and meaningful prose of the nameless author. While the entire book is well written, there are moments of pure genius that arise without warning, sweeping the reader into a different reality and a whirlwind of possibility. During these moments, the nameless author could best be described as the Thoreau of the alley—one who lives/writes deliberately, and without regrets.
"It is very fitting that the author remains nameless because the idea being explored is that this could be you, your life, your freedom. Evasion suggests that true living can be done both for oneself, and in spite of capitalism. More specifically, Evasion teaches one how to live off of the excesses of the capitalist system without contributing to it. The ethic presented to the reader is one of exploiting the exploiters—robbing the corporate chain-stores in order to get by, eating what others carelessly throw away, living in houses that people abandon, riding for free on trains that penetrate our landscape. Despite the daily schemes of theft, food acquisition, travel and housing, the author is explicit about his/her devotion to a lifestyle free from animal products, drugs or alcohol. Individuals that live a straight edge, vegan lifestyle sometimes have the tendency to assume the 'holier than thou' platform of which they can be critical of a cruel and sinful society. However, the author's lifestyle choices are reflected upon in order to demonstrate to readers that one can live this lifestyle without compromising one's ethics.
"Furthermore, the author never expresses contempt for individuals who subscribe to the capitalist system, but instead, he/she fully understands the symbiotic relationship at work. The author is not critical of people because they are blind sheep or mindless sinners, but because they have not challenged their worldview and they are not living lives of enjoyment.
"While the author's lifestyle may not be appealing to everyone, it is well worth your time to explore what it is about, and how one can accomplish it. Regardless of your disposition, the message presented throughout is one that all of us can understand: life can be exciting, positive, fun, daring, and rewarding . . . but only if we let it be. Evasion not only challenges the assumptions of what it means to survive, but also what it means to truly live. It is not too often that a book can really change the way in which you think about life. This is one of those books."
Bad subjects , January/February 2001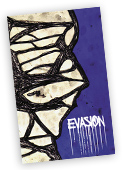 [Wholesale copies are $3 each]
You can read Evasion, along with all our other books, for free at your local library! Check out CrimethInc. Into Libraries.
Tech specs
Size: 4.75" x 7.5" x .75"
Weight: 11.3 ounces
Pages: 288 + cover
Ink: Four-color on cover and black bleeds throughout.
Words: 88,619
Illustrations: 8
Photographs: 7
Index:No
Contents
Five
the wrong train
free boats, retirement leisure, starvation, etc.
Four
memoirs of a dumpster diver
exposing industrial waste and eating it
dumpster love
picking up what you want and running for it
loss prevention exposed
gainful unemployment
Three
making it up as i go
usa on a dollar a day
Two
gate crashing
all dressed up and nowhere to go (but out the door)
scam-trak
One
deja-greyhound
git on 'em and go
california scheming

history
Evasion came into the world as a 106 page full-size photocopied zine that contained about 40% of the text found in this book. With under fifty copies made by the author, the zine was destined for obscurity until rescued from a stack of zines in someone's bathroom by a band in the midst of their summer tour. Copies were made and given to friends, and so on and so forth and a few years later, there are about 2,000 copies in existence (that's our best guess at least)—circulated entirely by the will to share an amazing and inspiring text with friends.
The book contains 95% of the text from the original zine (although slightly revised) that makes up approximately 108 pages of the book along with 162 pages of new material. Due to the requests of the author, the original zine is no longer available from CrimethInc..