word of the week
/ march 17th, 2013
‹ Prefiguration ›
We must be the trouble we wish to see in the world.
Anarchists have long sought to demonstrate the virtues of their vision through prefigurative projects: free food distribution, do-it-yourself health care, collective living arrangements. If only a working model of a better world could be created in microcosm, the thinking goes, everyone who experienced it would become partisans in a revolutionary struggle. Yet in a capitalist society, these experiments can only be carried out at the margins: the dregs making the best of debris.
Meanwhile, at the Googleplex, cafés staffed by world-famous chefs offer healthy organic food in all-you-can-eat buffets. Google employees drop their children off at free day-care, avail themselves of free hairstylists and laundromats, take their pets to work, and play Ping-Pong or volleyball on pristine facilities. After they ride in on the free shuttle or park their electrical cars at the charging station, free scooters wait to convey them from one shining example of sustainable architecture to another; they are encouraged to decorate their workspaces however they wish, and whimsical features ornament the campus, including a tyrannosaur skeleton and a rocket ship. Massage therapists remedy their every complaint; a personal lifeguard watches a single swimmer exercising in a swim-in-place pool the size of a bathtub, with different speed settings for water flow. The brightest luminaries in every field are brought in on a daily basis to present free seminars to which everyone is invited—everyone, that is, who produces enough profit to keep a foothold in this city on a hill, and doesn't flinch at swimming through a sea of blood to hold onto it.
If corporations can prefigure a world of abundance more effectively than revolutionaries can, what does that tell us about this strategy? Perhaps that the important thing is not to prefigure utopia—which is already available to the winners of the rat race, albeit intramurally—but rather to prefigure the offensive that would render it accessible to all.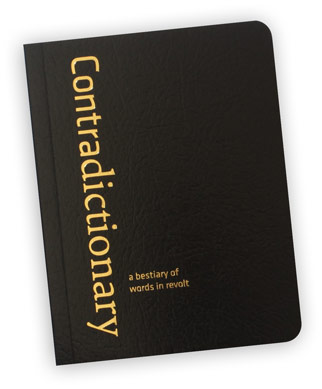 [Wholesale copies are $5 each]
Orders placed right now receive a free bookmark and pencil, limited to 1,000 copies, to celebrate the book's release.
Contradictionary is a glossary of capitalist cant and anarchist argot—a field operations manual for the war within every word. In the tradition of The Devil's Dictionary, it concentrates a wealth of ideas and history into aphorisms and anecdotes, alternately scathing and sublime.
Tech specs
Printing: Faux-black-leather vinyl cover with gold foil stamp, and two colors (black & sepia) with full bleeds throughout.
Binding:
Perfectbound w/ PUR glue
Weight: 7.7 ounces
Size: 4.25" x 5.5" x .735"
Pages: 320 + cover
Definitions: 519
Words: 45,478
Illustrations: 64
Photographs: 20